Top 5 Pocket Friendly Smartphones you always wanted to have
In order to get the perfect smartphone for you, consider the following basic attributes; Screen size and resolution, processing power, camera quality, battery life, internal storage capacity, operating system compatibility, body design, weight and the retail price. Considering the above qualities, here is review some of the best budget smartphones.
1. Microsoft Lumia 650
This Microsoft latest edition features a five-inch screen with a 1280 by 720-pixel resolution. Though not razor sharp, it provides quality picture for bright colored displays as well as dark black images. As for the processing capability, it is built with the Snapdragon 212 Qualcomm processor alongside a 1GB RAM capacity. This processor is one of the slowest of its versions and as a result makes the phone slow in terms of running its applications.
Microsoft Lumia 650 is built with both an 8 megapixel back camera and a 5 megapixel front camera. These camera qualities are average; they are not so bad but at the same time they are not so impressive. The battery life extends up to an estimated 12 hours depending on usage. The phone operates on Windows 10 Mobile operating system and has inbuilt applications. Unfortunately, this OS is not compatible with third party software. The phone's design has a good visual appeal featuring an aluminium frame with a glass front and fine plastic posterior. The phone retails for around £120; a low cost gadget for those who are price concerned.
2. Vodafone Smart Ultra 7

This is the latest brand of Vodafone's budget phones and is built with a 5.5-inch wide screen with a 1920 by 1080 high definition pixel capability. This means as far as quality is concerned, it serves its purpose. The phone runs on the MediaTek octa-core processor which facilitates relatively faster application running than its rivals. It is has a 13-megapixel back camera as well as 5-megapixel front selfie camera. The back camera produces occasional blurry but decent images. Its 16-gigabyte internal storage capacity is fairly good for a phone of this caliber.
This phone's operating system runs on the latest version of Android; the Android 6 marshmallow that also comes with a myriad of other applications installed in it; you can uninstall those that you do not fancy. This gadget weighs 150 grams with a 9mm thick body frame which consists of plastic posterior. It retails for around £135.
3. Huawei Honor C
The Honor C brand from Huawei is relatively good in terms of quality. It has s 5.2 inch LCD display and a fairly good resolution; an attribute which coupled with its Kirin 650 processor makes it desirable. This processor can handle high definition games alongside the phone's 2GB memory of RAM. The 13-megapixel camera at the back is good for top quality photo shoots and so is the 8-megapixel selfie camera.

The battery lasts 48 hours assuming the phone is operating normal programs. It comes with a 16 GB internal memory capacity with a microSD card slot if you so wish to upgrade storage capacity. It runs on Android 6.0 marshmallow operating system and boasts a glass crisp front face that has been surrounded with plastic edges. Honor C costs £150 which is understandable considering capabilities and bonus features such as the NFC for Android Pay, two SIM support and an FM radio capability.
4. Moto E V2
Motorola's Moto E is a reliable budget smartphone with a relatively smaller 4.5-inch display screen than its counterparts. It features a 540 by 960 pixel quality which unfortunately is low in resolution. The processor is also low end consisting of the 1.2 GHz Cortex quad-core processor. The 8-megapixel camera at the back is not so reliable if you want high quality pictures and images and as such you will have to consider other factors so as to come up with the best picture quality. The battery life of this phone can extend up to a full day if properly used.
Moto E has 8 GB internal memory storage and a memory card support capability to complement it. It runs on the latest upgraded Android 6.0 marshmallow operating system and boasts an easy-to-handle body design of a curved back and a black plastic rear end. The phone weighs 145 grams which is also pocket-easy as far as portability is concerned. It costs £109.
5. The EE Harrier Mini
This is by far one of the cheapest smartphones of this category and comes in a 4.7-inch screen size and a 720p resolution capacity. It runs on 1 GB of RAM on later versions of Qualcomm processors particularly the Snapdragon 410 but it is probably not suitable for high-end games. The 8-megapixel camera at the back is not very reliable for quality photography but it gets the task done and so is the selfie camera.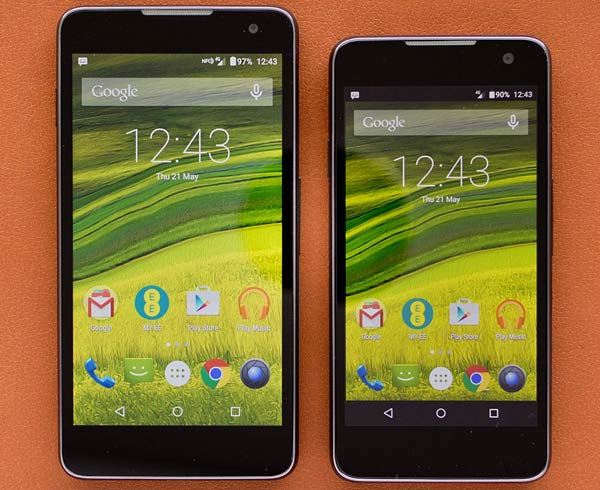 Its battery can last for a day. It also features an 8 GB internal memory storage space and a micoSD card allowance not to mention the latest Android operating system it runs on. Its 9mm thick frame and 124 gram weight makes it easy to carry around. It will cost you only £99 to acquire this gadget.
Conclusion
Basically, a good smartphone should be that which provides a good mix of the above stated eight features. Weigh them according to your needs and expectations before making a purchase. It's important to also consider the price against the actual functional features of the phone. Remember that high price does not automatically mean good quality.