Volkswagen's New Concept Vehicle- Facts You Should Know
The new self-driving automobile is known as Sedric, which is a level 5 vehicle with the capability of full and automated operations. The self-driving car is considered as a precursor for additional models in the new future from the Volkswagen Group. A few days ago, Matthias Muller, Volkswagen's Chief Executive said that people should expect more from the company in the years to come. Muller said this during the annual auto executives' gathering held in Geneva.
Sedric Self-Driving Concept Vehicle
According to Muller, Sedric is not designed for controlling by human drivers. He emphasized that the automobile has an automated operation meaning that it uses a self-driving concept. Volkswagen, a leading car maker in Europe, said that it has plans to invest a lot of money on ride hailing, automated driving, and electric cars. Also, it expects to release 30 plus electric car models by the year 2025. Currently, the company is battling to pick up from the emissions test cheating.
Volkswagen's self-driving car closely resembles a Bulbasaur. Moreover, it does not resemble anything you will come across on the roads anytime soon. The self-driving car does not need a human driver to control it. Instead, Sedric contains an all-electric concept for operation purposes. Moreover, this self-driving car is meant to operate using level 5 full autonomy. This means that the system is in a position to effectively handle all work and will pick up riders only when they've summoned it by pressing a button.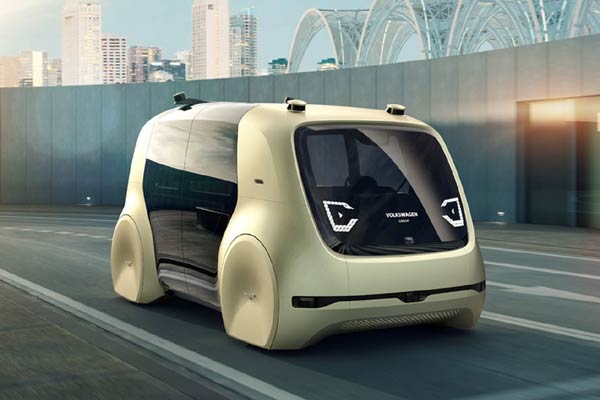 The self-driving car was first seen at an Auto show in Geneva. Muller described Sedric as an "idea platform" and "trailblazer" for Volkswagen's future autonomous innovations.
The self-driving car concept revolves around what Volkswagen calls "the mobility experience" to all people. However, what that implies exactly isn't clear. The design concept of Sedric is explicitly forward-looking, therefore; people shouldn't expect to come across any Bulbasaur lookalikes on the roads anytime soon. Volkswagen is yet to provide a lot of details about how it plans to deploy Sedric on the future streets.
Inside Sedric Concept Vehicle
Its living room presentation is assisted by quality materials that are carefully selected including the birch leather, which functions as an upholstery material as well as air purifying plants strategically position in the front part of the car's rear windscreen. Sedric is in a position to respond to voice commands from the occupants of the car.
The windscreen inside serves the function of a computer display. This is where maps together with other information are shown. The company's aim is for Sedric to become a level 5 SAE vehicle. This is the highest autonomy vehicle. By simply pressing a button, the controller calls over the new Volkswagen. It displays its time of arrival using colored signals together with a vibration signal specially designed to guide people to the auto especially those with impaired vision.
Theoretically, the remote is in a position to operate almost anywhere in the globe. The company describes its new concept of mobility as "father of numerous concepts". The mobility concept is already under construction, and the company suggests that it will as well get "children and grand children" within its many brands including Skoda, Seat, Bugatti, Bentley, and Audi. The company had ride sharing in mind when designing the Sedric concept vehicle. In the near future, the company is hopeful that "intensively used vehicles" will be in a position to reduce energy consumption and traffic and increase sustainability and safety at the same time. The company believes that, even after self-driving cars have been completely made available; many consumers will still prefer purchasing their own.
Although this concept is currently theoretical, IRL has already embraced some of the principles around the autonomous shuttle system. At the beginning of this year, self-driving shuttle buses were seen on Las Vegas streets in some pilot program that is scheduled to expand sometime this summer. Volkswagen's new self-driving car does not look like it will be as fun as other Volkswagen's recent concepts such as the Electric Microbus. However, once the Sedric hits the road, it will help usher in a whole new era of transportation. Sedric does not have steering wheel or pedals. A push of a button summons the car to ferry people to their destinations, similar to human operated services such as Lyft and Uber. This self-driving car means a lot to the automaker. Volkswagen hopes that Sedric will give the transport system a whole new face.
Also Read: Google and Fiat Chrysler to Come Up with Android in-car Tech
Conclusion
Sedric is summoned using a button linked to a mobility universal ID. This makes it possible to switch between shared vehicle and personal autonomous Sedric. Sedric is just a concept and consumers shouldn't expect to see it on the roads or city anytime soon. The Volkswagen Group assures consumers that some aspects of this self-driving car will be available in future concepts. Additionally, some of these aspects might even show up in production vehicles. According to Muller, many functions and elements of this self-driving car concept will be made available in some of their brand vehicles in years to come.