In Ear Headphones: Run With the Best Noise Cancelling Headphones
Wearable technology has grown and advanced to new levels. With it, you can do almost anything and everything. In addition, they make it easier and much more convenient to carry on with your daily duties while they go about with their functionalities.
In addition, these devices have grown smaller and smaller such that you can place them at the desired spot and leave them on without fear of losing them. This is the same case with the newly designed and launched in ear headphones with a noise canceling feature.
They are not only small and quite convenient for you as an individual, but they also smart and stylish and hold on for as long as required giving you the company you need while carrying out your daily physical exercises.
Purpose
Running is one of the best physical exercises and people prefer it to going to the gym on a daily basis. This means that they require in ear headphones, headphones and even ear pods on a frequent basis.
The fact is, many of this do not hold their end of the bargain and end up spoiling due to excessive sweating, getting lost as they have no proper holding mechanism or are simply not fitting for the individual using them among other reasons.
We, therefore, tend to become obsessed with finding the right pair and we fail to see what this is doing to our bank accounts.
Well, this is no more with the Senso Bluetooth in ear headphones or ear buds. It not only comes at a reasonable price, it is also effective in achieving all of the desired personal functions and companionship during the run.
Flexible Ear Hooks

Holding onto ear buds is sometimes the most difficult thing to do while on the run or moving through the pathways or in the forest trails.
This is why the Senso Bluetooth in ear headphones or ear buds comes with flexible hooks that assist an individual to hold them in place when running.
The hooks are designed to ensure that the ear buds remain in place regardless of how fast you are moving.
Sweat Proof and Water Proof
Running comes with a lot of sweat and water intake. Sweating is associated with spoiling the ear buds or earphones functions especially if it leaks through.
Similarly, water from a light drizzle during your run can have the same effect. This not only ruin your perfect moment during the run, the exercise also becomes tedious due to the disappointment and lack of companionship.
However, the Senso Bluetooth in ear headphones or ear buds comes with a sweat proof and a water proof feature that ensures they are protected against the light drizzle or the excessive sweating. You can have them with you during the run and have all the companionship required or needed for the run.
Noise Cancelling
Running requires you to have your own piece of mind and distractions are advised against as they tire you even more.
The Senso Bluetooth in ear headphones or ear buds comes with this feature that enables all the noise apart from that which is being produced by the ear buds to be canceled out.
This means that remain in your own world while running until the run is complete or you have to pick or make a call. In that case, you can use the control that is hands-free to make or receive an incoming call.
Battery Durability
Worried that the Senso Bluetooth in ear headphones or ear buds battery life will die before you are able to complete the run every single morning? Well, there is no need to worry.
This is because the Senso Bluetooth in ear headphones or ear buds battery lasts for around eight hours once it is fully charged.
This is a lot of time and you will be able to go for your run and come back for a few days before you think of recharging it once more. You can listen to your favorite music all the way and back for over eight hours.
Customer reviews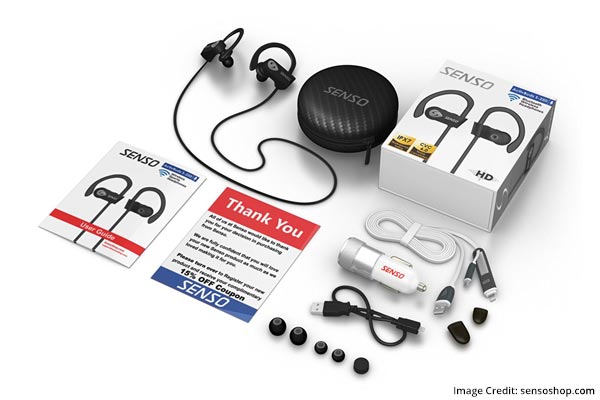 The device has some of the best reviews to read through and discuss with friends. Most of this makes you to just want the Senso Bluetooth in ear headphones or ear buds for your own self.
Many are saying that the Senso Bluetooth in ear headphones or ear buds are just the right size, are comfortable and above all are effective and retain their position once worn regardless of what you do while on the move.
Furthermore, it comes with easy to use controls especially when it comes to adjusting the ear buds volume levels, changing the playing music track, receiving calls among others. They are also easy to pair and share information with your phone.
Video:
Also Read: Top Biometric And Heart Rate Monitoring Headphones
Conclusion
Definitely, the Senso Bluetooth in ear headphones or ear buds is one of the devices that you cannot miss and is a must have as soon as possible.
If tired of losing your in ear headphones, try this one out and you have a guarantee to never purchase others just because the previous one got lost or spoilt due to sweat or water among other reasons they are protected against.