CHIP: The $9 Tiniest Computer to Start its Shipping in December
CHIP has replaced Raspberry Pi 2 as the smallest and cheapest computer in the world. While Raspberry Pi 2 costs $35, CHIP is only $9. But like Raspberry Pi 2, CHIP can be used in a variety of ways. You can connect mouse, keyboard and monitor to it, so it becomes a personal computer.
CHIP is a single board computer about the size of a credit card, but it can do just about anything you want it to. Next Thing Co has built it.
As you can guess from its cost and size, CHIP is not a very powerful computer. It is powered by a 1 GHz All winner A13 processor and has 512 MB of RAM. It boasts 4GB of internal flash storage and has a Micro USB port, full-sized USB port, Bluetooth 4.0 and built-in Wi-Fi 802.11 b/g/n. It also has optional ports for VGA and HDMI monitors, and an audio jack with a microphone that doubles as a way to output video via a composite cable.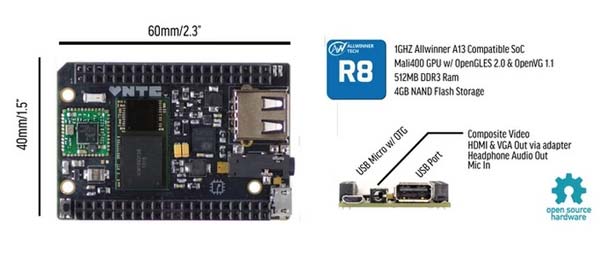 The computer runs any Linux-based operating system and has access to a sizable chunk of Linux apps. Since it can connect to composite video, you can use a tiny screen or an old TV you have. But if you want to hook it up to a modern computer display or an HDTV, you will have to buy a separate VGA at $10 or an HDMI at $15. VGA adapter and HDMI snap onto the computer just like Lego.
You can also make the computer portable by snapping it into Pocket CHIP, an accessory with a QWERTY keyboard, 4.3-inch touchscreen, and a battery that lasts up to five hours.
CHIP is currently being crowd-funded through a Kickstarter campaign. The project has successfully reached its $50,000 funding goal but still has 29 days to go. Shipping of the first CHIP computers is expected to start in December.
Why would you need CHIP? Well, the device is very cool. At only $9, you get a tiny computer that you can easily carry around. Besides, Next Thing Co. has added CHIP as a spur to innovation. You can use it to play games or as a mini-computer.
CHIP is the perfect solution for people experimenting with micro devices and wearable, an area of interest that is sure to grow over the next few years.