Asus FreeSync Monitor with 1440p, 144 Hz Display Launched
Asus is one of the largest PC vendor companies, fifth to be exact. It was founded in 1989, and since then they have always been on top. The headquarters of the company is located in Taiwan. Asus has over 400 partners and operates across 32 countries with around 50 service sites. They produce many things including laptops, computers, mobile phones, computer monitors, sound cards, graphic cards, computer cases and more.
The company's main focus was the production of G-Sync monitors for the gamers across the world. That is about to change, due to their upcoming preparation to release their first FreeSync monitor.
FreeSync is one of the open software for the PC games. It is designed to enhance the game play, and it also provides smoother motion to eliminate the image tearing, without reducing the frame rates and quality of the game play. It usually works by synchronizing the frames of graphics adapter with the refresh rate of the monitor. It ensures that the frames from the graphics adapter are displayed on the screen as soon as they are ready. So, Asus has mainly focused on the production of good quality FreeSync monitors for the games along many new and interesting features. This upcoming monitor is designed for the gamers with superior viewing angles and IPS-based display.
Features of Asus FreeSync Monitors
The Asus new FreeSync monitor contains many interesting features. Some of the most important features of this device are as follows: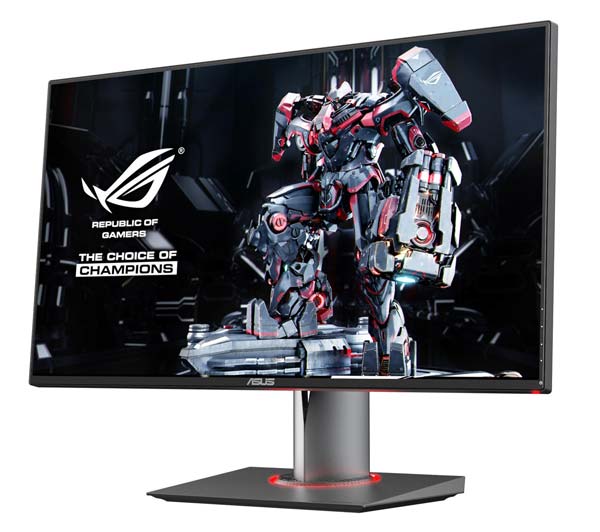 The Asus first FreeSync monitor MG279Q contains a very large and high-quality 27-inch touch screen with a resolution power of 2560 x 1440 pixels.
This Asus FreeSync monitor has an IPS panel, LCD and a higher refresh rate of 144 Hz.
It offers the generic support for the Adaptive Sync specification in the Display Port 1.2a standard.
This monitor has also achieved the official FreeSync certification for the display. Now it is enhancing the refresh rate to 144 Hz with a minimum of 40 Hz.
The MG279Q monitor is becoming an excellent monitor for the gamers due to its interesting and attractive features such as FreeSync, 1440 pixels resolution, the use of high-quality IPS technology as well as 144 Hz refresh rate.
The Higher refresh rate of this device is due to the availability of AH-VA type IPS based panel. This advanced IPS panel is usually found only in a few monitors.
This particular monitor is of high quality due to the in-plane switching panel. This IPS technology provides its users around 178 degree viewing angles as well as improved color accuracy.
The monitor usually supports two HDMI ports, single Display Port, Mini Display Port as well as (MHL) mobile high-definition link 2.0 connectors.
It also integrates inbuilt dual-port USB 3.0 hub connectivity for their customers.
One of the most interesting features of this device is its unique display. In fact, the combination of IPS panel, high refresh rate, and high-resolution power make it unique.
It is said that the panel size of this Asus monitor is about 27 inches.
Other features of this device are ultra-low Blue Light technology as well as a stand.
The hardware is also superior as compared to the other monitors of its type, and it is one of those devices which publically support DP 1.2a and adaptive Sync.
These devices are available with a variable refresh rate from a minimum refresh rate of 40 Hz to the maximum refresh rate of 144 Hz. You can use this monitor with AMD Radeon graphic cards and can operate at a variable refresh rate.
The color of this Asus FreeSync monitor is black, and the setup of this monitor is quite good. The black depth and contrast ratios are very compatible with IPS technology and revealed good results. Another improvement in this monitor is the responsiveness of pixels which has helped to resolve the overshoot issues. The audio is supported by stereo loudspeakers. The monitor has a response time of 5ms G2G, a contrast ratio of 1000:1 and brightness of 350 cd/m2. The features related to the screen of this monitor are its beautiful design and also a wide range of ergonomic adjustments from the stand.
Another unique, as well as interesting feature of this device, is its ability of easy to navigate OSD (on screen display) along with the company of five-way navigation joysticks, as well as hotkey shortcuts. The smart cable management system and ergonomic design of this monitor are very interesting.
This good IPS monitor will be available in the market very soon. The company has not clearly described the price of this monitor.